My name is Avril, an English teacher in China and a Chinese teacher in America now.
Yes, I know it sounds like a tongue twister, and it is really a twist of life and career. No matter what it is, change itself always makes me feel thrilled and alive."
Panjin, a small city in Liaoning Province, is my beloved hometown which is a fertile region and famous for its oil, rice, crab, Red Beach and red crown cranes. I am fortunate and proud of growing up there. Welcome to Panjin!
As we know, China has reopened schools from April. Taking my home school which is a high school with 3 grades for example, all the graduating senior high students who are going to take CEE (College Entrance Examination) this summer came back to school on Apr.15. The second-grade students go back to school today, May 17, while the first-grade students are still having tele-education at home, waiting for the return on May 25th.
The line to reopen schools in China is very high because the safety of kids is prior to anything. First, my city has ZERO case for 100 days before reopening schools. All schools get full aid from local government to have plenty of surgical masks, gloves, gowns, alcohol, disinfectants, infrared thermometers, liquid hand soap, sanitizers, etc. for staff and students. 
Mask vending machine in the school building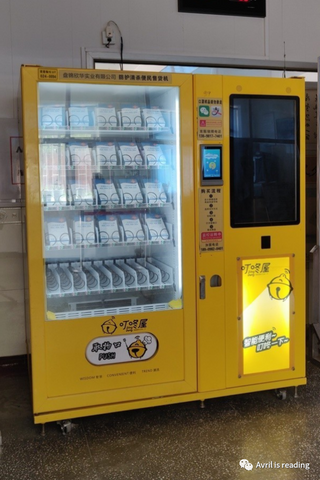 Before reopening, every school had made a very detailed plan for it and had been preparing and drilling for one month. Local government and DOE (Department of Education) checked each school to guarantee every procedure is safe enough. Every student and school staff had been reporting their health condition and their contact every day for 30 days. A health declaration form must be filled and signed daily. Only the students who are proved to be healthy can return. If anyone including parents goes out of the city, he must report to school and have self-quarantine for 14 days. All the school staff has taken nucleic acid testing. None of them is positive or has anti-body.
The school staff is taking NAT.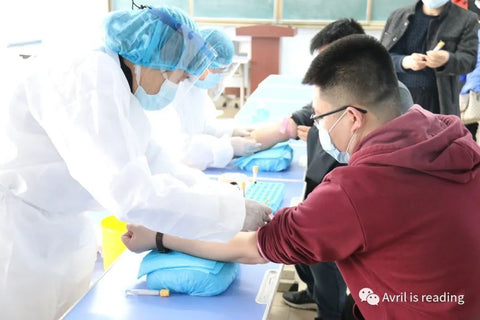 When the students come back finally after almost 2-month detention, school staffs wait at the gate to organize them, take everyone's temperature, disinfect their hands, schoolbags and luggage every day. Each one must wear a mask, keep 1-meter distance from each other and wait in line. 
Schoolbag disinfection at the gate.
At the gate, students are waiting in line for taking temperature.
In the building, students are taking temperature again by a machine before entering classrooms.
All classrooms, offices, dorms and dining halls are disinfected 2 times every day. Windows and doors must keep open all day for natural ventilation. Air conditioners and ventilation systems are banned because they are found to be the key factor in droplet transmission.
Classroom is daily disinfection.
Every class had more than 50 students before this pandemic. But now each class contains less than 30 to make sure that students can keep social distancing. Teachers and students must wear masks in class and take temperature three times every day. The homeroom teachers monitor and observe the students all day long. Anyone who is sick in school will be sent into the isolation room waiting for a diagnosis. Fortunately, there is ZERO case till now.
Everyone is wearing a mask in the classroom.
In the dining halls, food is served with non-contact. Students are divided into several groups to have dinner in turns with social distancing. Talking is forbidden while eating. After dinner, everyone must wear a mask immediately, wash hands, and leave. More hand washing sinks are temporarily installed on campus.
Students are having dinner while keeping social distancing.
Temporarily installed sinks
Every class has its own time schedule and route for entrance and departure. All mass gatherings are canceled. There are teachers who monitor the students keeping social distancing at recess. The whole campus is locked with no visit permitted, even the parents.
Students keep social distancing in the hallway.
On the whole, the key points are testing, wearing masks, washing hands carefully, comprehensive disinfection, social distancing, natural ventilation, no gathering and contact tracing. Everyone is involved in this pandemic, so it is our responsibility to be diligent and vigilant to keep ourselves and others safe.
PS. I sent this to my American friends, and they say it is incredible! I am proud of my hometown and my home school! Wish all my colleagues in China healthy and safe! I will stay strong here!