The so-called "The world's e-commerce should be viewed from China, the Chinese e-commerce should be viewed from Zhejiang province, and Zhejiang's e-commerce should be viewed from Hangzhou city, Hangzhou is China's e-commerce capital, and the world's largest e-commerce company Alibaba is also located in Hangzhou, and there is a strong demand for e-commerce talents.
E-commerce is bound to be the best choice :E-commerce major combines the characteristics of ZJSU
          Give full play to the traditional economic and financial advantages of our school 
● National first-class professional: e-commerce
● National Virtual Simulation Experimental 
Teaching Center: E-commerce Virtual Simulation Experimental Teaching Center
●The first batch of national Internet application innovation open platform demonstration bases: the new generation of e-commerce technology and application network innovation platform
● National E-commerce Demonstration Base:  Xihu District E-commerce Industry Base
● National E-commerce Transaction Technology 
Engineering Laboratory: Hangzhou Research Institute
● The country's first batch of first-class 
undergraduate courses: virtual simulation experiment of fast picking decision for small items in e-commerce
● China (Hangzhou) Cross-Border E-Commerce 
College: jointly established with Hangzhou Qiantang New District
● China (Hangzhou) Cross-border E-commerce 
Talent Alliance: the secretary-general and director-general organization
The e-commerce major is National first-class major.It is a composite comprehensive discipline integrating economics, management and engineering (mainly information technology). As an important industry in China's modern service industry, e-commerce is known as "sunrise industry, green industry". With the rapid expansion of e-commerce in various industries, professionals in the e-commerce industry are quite scarce.
This major aims to cultivate compound senior talents with good e-commerce practical operation ability and information technology application ability, communication and coordination ability, as well as a modern business perspective, an international economic perspective, and mastering the theoretical foundations of modern management and economics, e-commerce theory and practical knowledge, information science theories and technical methods. The major emphasizes the combination of theory and practice, especially the cultivation of students' ability to analyze and solve practical problems in e-commerce, and emphasize students' innovative thinking and entrepreneurial ability.
The e-commerce professional training direction is divided into three directions: "e-commerce operation management", "e-commerce technology development", and "cross-border e-commerce". Major courses include E-commerce Operation Management, Cross-border E-commerce, Cross-border Logistics, New Media Marketing, Mobile E-commerce, E-commerce Security Technology, Internet Finance and Payment, Internet Product Design, Business Data Analysis and Visualization, Mobile Terminal Software Development, etc.
More information about Zhejiang Gongshang University (ZJSU)- Scholarships and costs
E-commerce major in our school has faculty team with super high level of scientific research and strong practical abilities
E-commerce faculty in the School of Management and E-Business (SME) has 17 full-time teachers, including 4 professors, 12 associate professors, 13 teachers with doctoral degrees, and 13 part-time corporate teachers, including Professor Zheng Dazhao, Dean of Business School of Hong Kong Polytechnic University and Chair Professor of Yangtze River Scholars; Professor Sheng Zhaohan, National Outstanding Contribution Expert, School of Engineering Management, Nanjing University; Professor Zhu Jianping, Director of Xiamen University Data Mining Research Center; Professor Sajal K. Das., IEEE Academician, Professor of University of Missouri.

           image 
More than 40 middle-level and above management personnel and technical experts were hired as corporate practices tutor, including Peng Lei, one of the founders of Alibaba, CEO of Ant Financial Services Group; Hu Jiangchao, former Chairman of Zhejiang Materials Industry Group Corporation; Wei Zhishan, Vice President of Sunyard Systems Engineering Co., Ltd., etc..


 E-commerce major is a very practical major How to develop e-commerce professional practice courses in our school. 
The professional practice curriculum system includes three levels, four platforms, and five combinations. The practice teaching method is flexible, and it cooperates with the government, schools, enterprises, and parks to jointly build six platforms including teaching experiment, scientific research practice, enterprise internship, park practice, open collaboration, and achievement transformation, creating a "three-dimensional, complementary, interactive, real, shared and open teaching environment. Large-scale e-commerce operations first-line practical elite classes, school-enterprise co-construction classes, special lectures, practical operations, entrepreneurship education and other practical courses are arranged
                  Relying on the National E-commerce Virtual Simulation Experimental Teaching Center, it has more than 20 practical teaching platforms (software), and has four experimental courses of e-commerce operation management, e-commerce logistics management, e-commerce system development, and e-commerce innovation practice. Students can do more than 180 experiments here, such as large e-commerce transactions, mobile e-commerce, cross-border e-commerce, e-commerce VR shopping, etc. The experimental platform is shared with more than 10 universities across the country, benefiting more than 3,000 students each year, and the number of experimental class-hours is nearly 40,000 hours.
The National E-commerce Virtual Simulation Experimental Teaching Center is located on the 5th floor of the Humanities Laboratory Building of ZJSU. It includes functional areas such as e-commerce platform development laboratory, e-commerce operation laboratory, cross-border e-commerce laboratory, VR experience area, and leisure area. The off-campus training bases include the national high-tech business incubator, Yiwu Mall Group, the First Village of China E-commerce, Jiangxi Ganzhou Investment Promotion Bureau, and Hangzhou UCO Cosmetics Co., Ltd.E-commerce is a profession that creates miracles
Many graduate students have made the first pot of gold in the wave of e-commerce
According to previous employment data, many of our university's e-commerce undergraduates majored in e-commerce graduates have many outstanding students employed in large e-commerce companies such as Alibaba, Tencent, NetEase, and UCO. Undergraduates majoring in e-commerce in our school are mainly engaged in three major employment directions.
a. E-commerce platform design 
(representative position: website planner/editor): Mainly engaged in e-commerce platform planning, network programming, and e-commerce platform security design.
b. E-commerce website design 
(representative position: website design/developer): Mainly engaged in e-commerce web design, database construction, program design, site management and technical maintenance.
c. E-commerce platform art design 
(representative position: website artist): mainly engaged in platform color processing, word processing, image processing, video processing, etc.
a. Enterprise network marketing business 
(representative position: network marketing staff): mainly use the website to develop online business, network brand management, customer service, etc. for the enterprise.

b. Online international trade 
(representative position: foreign trade e-commerce personnel): use the network platform to develop international markets and conduct international trade.
c. Content services of new network service providers 
(representative positions: website operators/supervisors): channel planning, information management, channel promotion, customer management, etc.
d. Promotion of e-commerce support system 
(representative position: website promoter): responsible for selling e-commerce system and providing e-commerce support services, customer management, etc.
e. E-commerce entrepreneurship: With the help of e-commerce platform, the virtual market can be used to provide products and services, and the virtual market can be directly provided with services.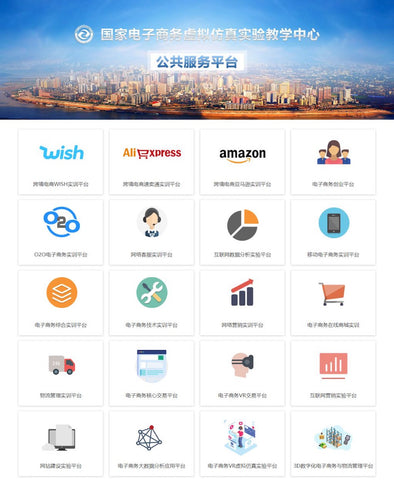 3.Comprehensive management type:
a. Comprehensive management of e-commerce platform (representative position: e-commerce project manager): This type of talent requires both a deep understanding of computers, networks and social economy, and project management capabilities.
b. Comprehensive management of enterprise e-commerce (representative position: e-commerce department manager): Mainly engaged in the overall planning, construction, operation and management of enterprise e-commerce.