College of International  Cultural Exchange at SHOU Held the Class of 2021 Commencement for International Students.
On the afternoon of June 21, 2021, College of International Cultural Exchange(CICE) at Shanghai Ocean University(SHOU) held the Class of 2021 Commencement for International Students at Conference Room 104 of the Administration Building. The attendees were as follows: Yang Jinlong, director of the International Exchange Office and director of International Student Office; You Luquan, dean of the CICE; Wang Qiong, deputy dean of the CICE; some teachers, graduates and students who had completed all their courses from CICE, the ceremony was presided over by deputy dean Wang Qiong. There were 48 graduates and students who had completed all their courses. Affected by the pandemic, some graduates were not able to attend in person, the ceremony were also held virtually.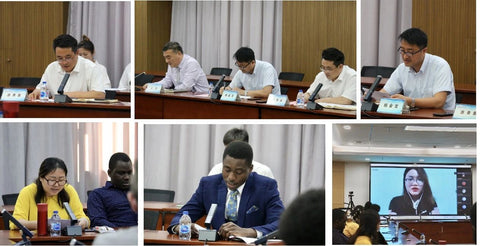 Yang Jinlong extended warm congratulations to the graduates, he talked with international students about stories in China, dreamed of a beautiful future life, he hoped the graduates would constantly strive for excellence and experience multiculturalism! Dean You announced the list of excellent graduates and outstanding students who have completed all courses. Director Yang conferred certificates to excellent student representative, ABAKARI GODWIN.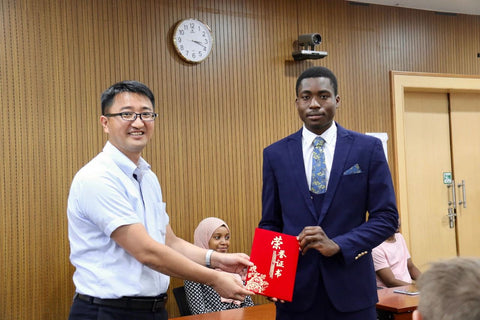 During the speech session, graduates representative ABAKARI GODWIN who was in campus and PHAM THI MY LINH who was in Vietnam spoke separately. They mentioned that the love and kindness of teachers and students made them fell in love with SHOU, Shanghai and China. The knowledge and life truth given and interpreted by teacher brought them confidence for future. Although blocked by the pandemic, many students were not able to return to school, the teacher's high-quality online classes helped them to successfully completed studies. They expressed their sincere gratitude to alma mater and teachers! The teacher representative Li Li led graduates to recall all kinds of sweet and bitter experiences during studying in China, the care and concern for the graduates overflowed in her heart. She addressed that by unremitting efforts, we could achieve the goal. Kept on lifelong learning. Enriched ourselves in social practice, and make progressive constantly!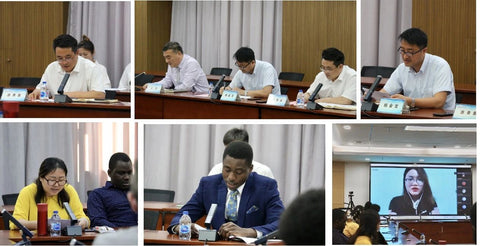 You Luquan congratulated the graduates and paid tribute to the teachers. He hoped that the graduates could apply what they had learned in China into building their own country, bring what they had seen, thought, heard in China back to their own country. He remarked that everything they had experienced and gained in China was the wealth of life. He also hoped that everyone could become a friendship bridge between nations. He wished that we could find new opportunities in the crisis, open up new situations in the changes, to achieve the best of ourselves, have a bright future!